SUPERMOTOCROSS WORLD ALL-STARS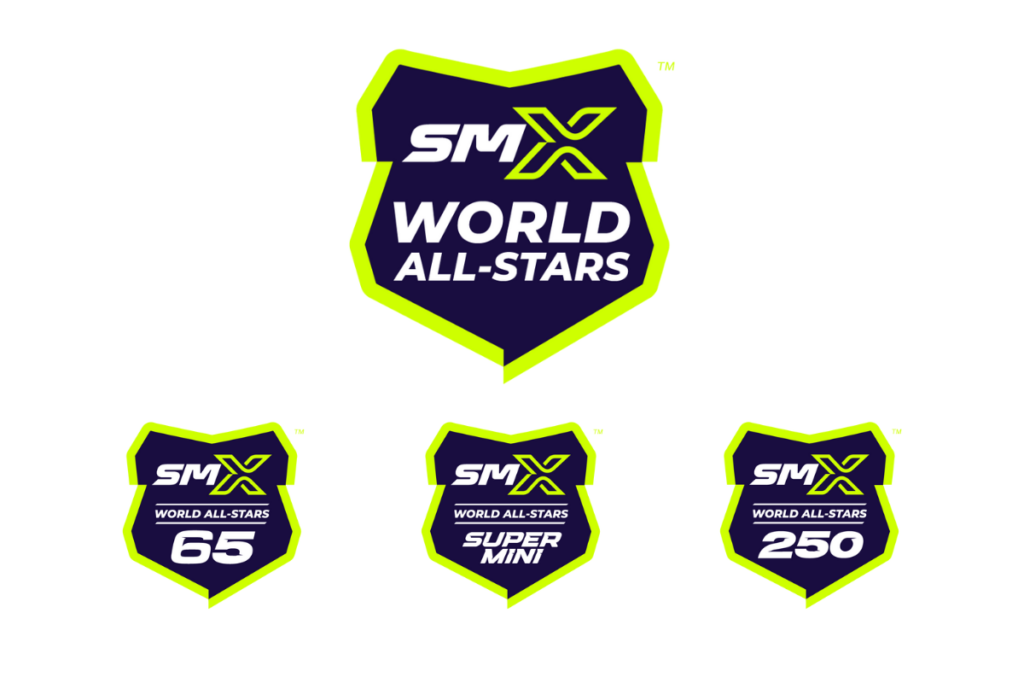 2023 Schedule
65cc World All-Stars: September 9 – zMAX Dragway at Charlotte Motor Speedway, Concord, NC
Supermini World All-Stars: September 16 – Chicagoland Speedway, Joliet, IL
250 World All-Stars: September 23 – Los Angeles Memorial Coliseum, Los Angeles, CA
Events subject to change
Information
How much is an entry?
The entry fee associated with a SuperMotocross World All-Stars Event is $200.00 per class. This entry fee covers the gate fee, parking fee, practice fee, and race fee. It also allows the rider into the pits, track access (at allotted times), and the venue spectating seating.
Am I required to be an AMA Member to register and race?
An AMA membership is required to compete in SuperMotocross and proof of membership must be presented at registration. AMA memberships are available here.
Does my mechanic need to be an AMA Member?
An AMA membership is not required to be a mechanic in SuperMotocross World All-Stars.
Is my mechanic's pass included in entry?
No, your mechanic will need to purchase a mechanics pass for $70 on-site. Each rider is allowed one mechanic to accompany the rider through staging and in the designated mechanic's area at allotted times. A mechanic's pass also allows you access to the pits. Persons less then 16 years of age are not allowed in mechanic's area.
What does my event registration include?
The rider's registration includes the riders event entry, pit pass and access to industry seating. Additional industry seating tickets (for friends, family, etc.) can be purchased on-site.
Do I still have to check in if I pre-entered?
Yes, all riders must check in on Thursday or Friday before SuperMotocross tech inspection ends.
To expedite your check in process, please be sure your AMA membership is current on the day of the event. If you need to renew or purchase an AMA membership, please follow this link. All times/dates subject to change- check Schedule of Events for each city for details).
Is SuperMotocross Industry Services and SuperMotocross World-All Stars on-site registration the same?
Yes, the SuperMotocross Industry Services is the location for the SuperMotocross World All-Stars check in. A map including the location of the Services trailer will be located on our website.
What do I need to bring to the AMA tech inspection?
Riders or mechanics will need to bring the motorcycle for tech and to pick up their competition packet which includes; Transponder, schedule of events, and practice sticker.
Do I need a transponder?
Yes, you will need to pickup your event transponder from the AMA truck during tech inspection.
Do I need a helmet eject system?
Helmet eject systems are mandatory and can be purchased onsite at either the AMA Truck or Alpinestars Mobile Medical Unit.
Where will I find event information?
Event information is located on our wesbite:
What time should I be at the venue?
Refer to the Schedule of Events for event day details.
Can we camp?
Visit the Concord, NC, and Joliet, IL, event detail pages to find out more about camping and to book your campsite.
Does it cost to park?
Parking in the pits is free for active pitting vehicles only (i.e. If it hauls your bike in it can stay). If you are bringing a motorhome it must be hauling a race bike which will be entered to race in that event (via trailer or hitch) in order to gain access to the paddock. Paddock placement is determined by Feld Motor Sports at its sole discretion. All other vehicles will need to be parked in general parking.
Can I bring food and beverages to the event?
You may bring food and drinks to consume within the paddock, however you may not bring food or drinks within the stadium/arena. Additionally, all race personnel, riders, mechanics and anyone associated with riders and photographers must not consume or be under the influence of alcohol or drugs that could affect their normal mental or physical ability. Besides affecting the safety of the event, any such use is inconsistent with the concept of good sportsmanship and is harmful to the sport of motorcycling. Anyone found to be in violation of these policies is subject to disciplinary actions and can lead to forfeiture of AMA membership or event credential.
Can I take photos of my rider at the event?
Still cameras are permitted at Feld Entertainment events, provided that they are non-professional cameras (lenses shorter than six inches) and the photos are intended for personal use only. No footage of our events, either still image or video, may be used for any purpose other than personal use.
How far back do you trophy?
The top 3 riders at each event will receive a trophy at the podium at the conclusion of their Futures Main Event.
What is your rider entry refund policy?
Refund requests must be put in writing and sent to [email protected] no later than seven (7) days before the event. Refunds will not be accepted after that deadline.
What to expect at a SuperMotocross World All-Stars Event:
Registration check in for all SuperMotocross World All-Stars riders is Thursday 12pm – 5pm or Friday prior to tech inspection ends. All riders must check in with the AMA at the Industry Will Call trailer on Thursday or Friday morning. If the rider is under the age of 18, their parent or guardian will need to accompany the minor through the Registration process. Please refer to the event information for a map showing where the Industry Will Call trailer will be located for rider check in.
Once you reach the Will Call/Registration staging lot, follow instructions on where to appropriately park. Please be aware that this staging lot is temporary parking- there is no camping, long term or event parking permitted in this lot.
Once you have checked in and receive your rider and mechanic passes, you will now be permitted to enter the paddock with your vehicle. Parking will be determined by staff representatives. You must park where they designate you to park.
At AMA Tech Inspection riders or mechanics will need to bring the last four numbers of their frame number to pick up their competition packet which includes; transponder, schedule of events and practice sticker.
After tech inspection please refer to the schedule of events that will be distributed at tech inspection
Please refer to the SuperMotocross World All-Stars Supplemental Rulebook for more information and qualifying procedures.
How do I ask more questions about Supercross Futures?
Call 703-749-5563
E-Mail [email protected]
2023 SuperMotocross World All-Stars Supplemental Rulebook
USMCA Certification
Beginning in 2023 the SuperMotocross World All-Stars will provide coaches that are USMCA certified an exclusive opportunity to participate in on-track activities that are directly related to SuperMotocross World All-Stars.
These activities will include:
Track Walk on both Friday & Saturday
Access to track-side viewing area for Free Practice, Timed Qualifying & Racing
Briefing and Debriefing of SuperMotocross World All-Stars athletes
All coaches must check in at registration and be USMCA certified. Valid photo ID and a current USMCA certification is required to purchase.
For more information on USMCA certification: Contact [email protected]
Race Number Instructions
Preference for numbers is based on time of registration.
Numbers must be clearly visible and displayed on the front number plate and both side number plates.
65cc World All-Stars & Supermini World All-Stars white backgrounds with black numbers required.
250 World All-Stars black backgrounds with white numbers required.
It is required that the official SuperMotocross logo appears on the front number plate. You can obtain the logo and/or logo artwork file two ways:
At each event, all number plate stickers will be available on site.
If a third party produces number plates and/or jerseys for you prior to meets, they may download the official logos