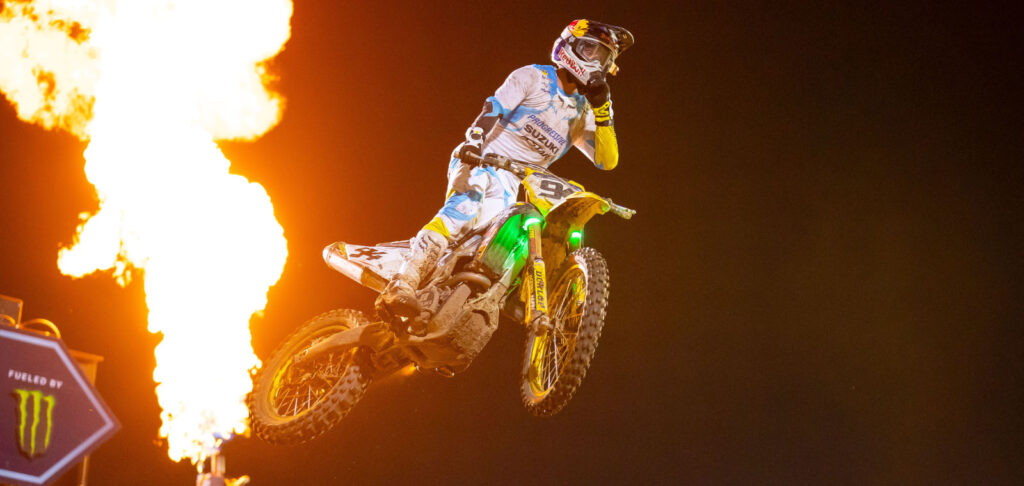 450SMX Class: Joliet Recap
Jetting Towards the Title: Jett Lawrence scorched Chicagoland for an overall victory and a great shot at winning the 450 SMX Championship as he is only two-points off the red-plate. The victory was his 39th career AMA victory (13 250SX, 11 450 Class, 14 250 Class, 1 SMX Playoff) and he is now alone in 17th on the all-time wins list. A 40th win would make him just the 17th rider in the history of AMA racing with 40 career victories. Cooper Webb sits above him in 16th with 40 wins. Jett was making his 80th AMA start.
Father Time: With a runner-up overall finish in Joliet, including a Moto victory, Ken Roczen has placed his Suzuki only 10-points from the grand prize. Roczen now has 269 career AMA starts and is looking for career podium #150 in L.A. Only Justin Barcia (324), Kyle Chisholm (307), & Jason Anderson (277) have more starts of all riders involved in the SMX Playoffs.
Being Chased: After a third overall in Joliet, Chase Sexton sits in an uncomfortable points lead of only two with the triple-points L.A. Coliseum race still to come.Sexton, the 450SX Class Champion from earlier this year, was making his 145th career AMA start in Joliet and nabbed his 69th podium and 102nd top-five.
Notes: Aaron Plessinger (4th) Is looking to make his 150th career AMA start in L.A. Dylan Ferrandis (5th) Made his 130th career AMA start in Joliet and nailed down his 87th top-five. Justin Barcia (6th) Nearing milestones in podiums (97), Top-fives (174), and starts (324). Fredrik Noren (14th) Made his 170th AMA start. Justin/Josh Hill (21st-22nd) The brothers share an identical 152 AMA starts in their careers going into the L.A. finale. Justin leads in all categories- Wins: 7-1, podiums: 20-14, top-fives: 35-25, top-10s: 83-71.
450SMX Class: L.A. Memorial Coliseum Historical Facts
History Lesson: The first ever race at the Los Angeles Memorial Coliseum was on July 8, 1972 and 16-year old Marty Tripes took the overall on his Yamaha. He went a consistent 2-2-2 to ward off three Swedish riders who took Moto wins ahead of him; Torlief Hansen, Arne Kring, & Haken Andersson. The race was Round 2 of the Inter-Am National Championship and Rd. 10 of the first ever AMA National Championship series. This race is considered one of the first true "Supercross" races in the sport's history. American Yamaha teammates Gary Jones and Jimmy Weinert would finish in fifth and sixth overall after Tripes and the Swedes.
Tripes Backs It Up vs. the Euros: The "Superbowl of Motocross" returned to the L.A. Memorial Coliseum the following season in 1973 under the same Inter-Am/AMA National Championship format. Now 17-Years of age, Tripes shocked the Europeans yet again this time with a 1-1-2 performance compared to his 2-2-2 performance from '72. Jim Pomeroy won the third Moto and finished second overall with a 3-3-1 day to give the Americans first and second on the day. In 1974 the Superbowl of Motocross was held as a stand-alone "Americans vs. Europeans" race and was won by Jaroslav Falta on his CZ and Roger DeCoster scored a second on his Suzuki. '72-'73 winner Tripes finished third on a Husqvarna.
Tradition Continues: Starting in 1975 the L.A. Memorial Coliseum race was solely a part of what is now the Monster Energy AMA Supercross Championship. This continued through 1992 (including two in '80 and sans '83), before the series took a five-year sabbatical from The Coliseum. Racing returned to The Coliseum in 1997 with two rounds of Supercross and in 1998 with a single round, a surprise opener win by Sebastian Tortelli. AMA racing has not returned to The Coliseum since then but boasts 24 Premier Class races from 1972-1998.
Dodger Stadium/Rose Bowl: Los Angeles County also hosted Supercross events in 1983-1985, 1990, & 1993 at the Rose Bowl and more recently in 2011-2012 in Dodger Stadium. That would make the 2023 SMX Playoff Finale the 32nd Premier Class race in Los Angeles County and 25th hosted at the Los Angeles Memorial Coliseum.
Premier Class Manufacturer Wins at L.A. Memorial Coliseum (Last Win)
Yamaha: 8 (1997)
Honda: 7 (1992)
Kawasaki: 3 (1998)
Suzuki: 3 (1997)
Can-am: 2 (1976)
CZ: 1 (1974)
Top Premier Class Winners at L.A. Memorial Coliseum
Broc Glover: 3 (1980 x2 & 1988)
Marty Tripes: 2 (1972-1973)
Jimmy Ellis: 2 (1974-1975)
Mike Bell: 2 (1978 & 1982)
Mark Barnett: 2 (1979 & 1981)
Rick Johnson: 2 (1986-1987)
Jeff Stanton: 2 (1989 & 1992)
First Time Premier Class Winners at L.A. Memorial Coliseum
Marty Tripes: 1972
Jaroslav Falta: 1974
Mike Bell: 1978
Mark Barnett: 1979
Sebastian Tortelli: 1998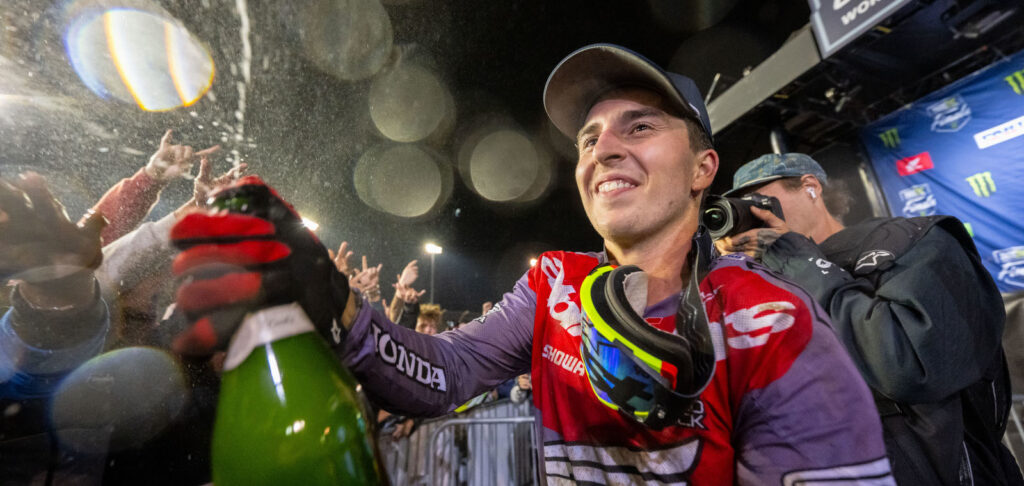 250SMX Class: Joliet Recap
Hunter Becomes the Hunted: Hunter Lawrence stole back the red-plate in Joliet while scoring his 21st career AMA victory in 1-1 fashion. He carries a three-point lead on Kawasaki's Jo Shimoda going into the L.A. finale. Hunter moves into a tie for 31st on the all-time wins list with Blake Baggett, Jason Anderson, Dylan Ferrandis, & Ezra Lusk while also securing his 85th AMA start.
Jodium: Jo Shimoda scored another podium in the 250 SMX Playoffs with a second overall in Joliet. He was making his 80th AMA start and is only three points off of the red-plate going into triple-points L.A. Shimoda now has 23 career podiums.
Winner Takes All: Haiden Deegan scored a third overall in Joliet and is now seven-points behind H-Law going into L.A. With first place being worth 75-points and second being worth 66-points in L.A., any of the aforementioned riders (Lawrence, Shimoda, or Deegan) would take the title with a victory. Deegan was making his 25th career AMA start in Joliet and scored his 11th podium. He also has 17 top-fives and 21 top-10s in his first 25 starts.
Notes: RJ Hampshire (4th) Scored his 67th career AMA top-five finish. Leads all 250SMX riders with 160 career starts. Jordon Smith (6th) Looking for his 100th career start in L.A. Justin Cooper (12th) Made his 105th career start. Stuck at 98 top-10's, will look to eclipse 100 in 2024 450SX.
250SMX Class: L.A. Memorial Coliseum Historical Facts
History Lesson: The first 250 Class race held at the L.A. Memorial Coliseum was on May 11, 1985 and was the penultimate round of the first season of 250SX Class racing (then 125cc). Larry Brooks would win on a Honda while Eastern Regional Champion Eddie Warren finished eighth and eventual Western Regional Champion Bobby Moore finished 10th.
More History: 1986 L.A. Memorial Coliseum hosted the finale for the Western Regional Supercross Championship. Donny Schmit's third-place finish clinched the title for him over the night's winner Willie Surratt. Surratt would secure the title the following season in The Coliseum with a second-place finish over Robert Naughton who finished seven-points back in the Championship. In 1988 the L.A. Memorial Coliseum hosted the finale for the Premier Class series and hosted an "Ultra-Cross" exhibition format race that was won by Willie Surratt in lieu of a traditional Regional round. The Championships were decided with the Western Regional final in Irving and the Eastern Regional final in East Rutherford.
Coliseum/Dodger Stadium/Rose Bowl: Regional racing resumed in 1989-1992 and just like the Premier Class would return in 1997 for two races and one in 1998. The Rose Bowl hosted 250SX Class races in 1985 as the Western Regional finale in the first ever 250SX Class series (then 125cc), 1990, & 1993. Just like the Premier Class, 250SX Class racing visited Dodger stadium in 2011-2012. The 2023 SMX Playoff Finale at the L.A. Memorial Coliseum will be the 11th time 250 Class racing has visited The Coliseum and 16th time visiting Los Angeles County.
Championship %: With the L.A. Memorial Coliseum being winner takes all in the 250SMX Class (between H-Law, Deegan, & Shimoda) and the 450SMX Class (between J-Law, Roczen, & Sexton) we examine previous winners of The Coliseum and how the fared in their respective title chases: In the Premier Class 6/23 winners went on to win their Championship. 1974 was a standalone race and does not count in that number. In 250 Class racing the number is 4/10, bringing the total to 10/33.
Manufacturer Wins at L.A. Memorial Coliseum (Last Win)
Yamaha: 3 (1998)
Honda: 3 (1992)
Suzuki: 2 (1997)
Kawasaki: 2 (1989)
Top Winners at L.A. Memorial Coliseum
Jeff Matiasevich: 2 (1987 & 1989)
Larry Brooks: 1 (1985)
Willie Surratt: 1 (1986)
Buddy Antunez: 1 (1990)
Jeff Emig: 1 (1991)
Jeremy McGrath: 1 (1992)
Brian Deegan: 1 (1997)
Kevin Windham: 1 (1997)
John Dowd: 1 (1998)
First Time Winners in L.A. Memorial Coliseum
Past Winners in L.A. Memorial Coliseum
450 Class
1972: Marty Tripes (2-2-2), Yamaha
1973: Marty Tripes (1-1-2), Yamaha
1974: Jaroslav Falta, CZ
1975: Jimmy Ellis, Can-am
1976: Jimmy Ellis, Can-am
1977: Jimmy Weinert, Kawasaki
1978: Mike Bell, Yamaha
1979: Mark Barnett, Suzuki
1980: Broc Glover, Yamaha
1980: Broc Glover, Yamaha
1981: Mark Barnett, Suzuki
1982: Mike Bell, Yamaha
1984: Jeff Ward, Kawasaki
1985: David Bailey, Honda
1986: Rick Johnson, Honda
1987: Rick Johnson, Honda
1988: Broc Glover, Yamaha
1989: Jeff Stanton, Honda
1990: Damon Bradshaw, Yamaha
1991: Jean-Michel Bayle, Honda
1992: Jeff Stanton, Honda
1997: Greg Albertyn, Suzuki
1997: Doug Henry, Yamaha
1998: Sebastian Tortelli, Kawasaki
250
1985: Larry Brooks, Honda
1986: Willie Surratt, Honda
1987: Jeff Matiasevich, Kawasaki
1989: Jeff Matiasevich, Kawasaki
1990: Buddy Antunez, Suzuki
1991: Jeff Emig, Yamaha
1992: Jeremy McGrath, Honda
1997: Kevin Windham, Yamaha
1997: Brian Deegan, Suzuki
1998: John Dowd, Yamaha